The keyboard has taken many forms since the early days of computing, some lesser known or more specialized than others, such as one-handed keyboards. We invite you to discover some original creations in this second article of our series.
---
SERIES — Curious Keys
One-Handed Keyboards
---
Whether you type with two fingers or two thumbs, you use both hands. However, some keyboards are designed to let you type with just one. It's hard to say whether keyboards designed for this use would increase your efficiency, but they will at least pique your curiosity!
To Play at a Higher Level
One-handed keyboards for gaming rely on ergonomic and functional principles. They have 20 to 40 mostly programmable keys. As we saw in the previous article in this series, gamers prefer the reliability of mechanical keyboards, but several membrane models are top sellers because they are more affordable. In contrast, one manufacturer combines analog and digital with a spring and an optical sensor in each key. There is something for all tastes and wallets!
To Type with 5 Fingers
Sometimes a necessity, sometimes a curiosity, one-handed keyboards take many forms, and more and more models are appearing. If you are interested in the idea of being able to use only five fingers, remember that in all cases presented here, you would have to learn new finger placements and technique! We cannot guarantee that these keyboards will be supported by Typing Pal, but nothing prevents you from trying and using the activities to train. Here is a selection of three designs over time.
The Maltron Keyboard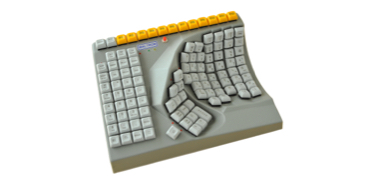 Maltron one-handed keyboards are recognizable by their design, virtually unchanged since 1981, with an imposing yet streamlined structure and a curvature created to reduce finger movements to a minimum. They are often used by people with injuries due to repetitive movement or disabilities.
The FrogPad Keyboard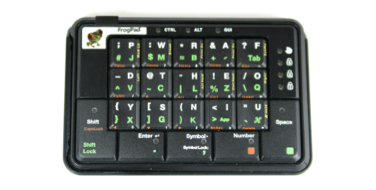 With only 27 keys, the FrogPad offers the equivalent of a full keyboard by using simple combinations. It's barely bigger than a number keypad. However, this keyboard has a murky history around its patent and has had two failed launches. The company has been silent since 2014. It would be difficult to get yours hands on this one!
The Tipy Keyboard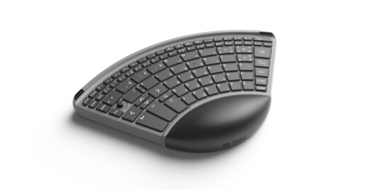 A recent innovation from Austria, the Tipy keyboard entered the market in 2021. With an incredible 92 keys, it resembles the standard keyboard (which has either 84 or 102), reducing the need for combinations. It has a number keypad integrated into the central keys and even a mouse. The unique two-sided model offers a left-handed layout on one side, and a right-handed one on the other. That's a total of 184 keys for a single keyboard!


So, are these the keyboards of the future? Or will the Tipy go the way of the FrogPad? Only time will tell! Because, as we will see in the next article in our "Curious Keys" series, it is not necessarily the best keyboard that wins, at least from an ergonomic point of view. We will introduce you to all kinds of layouts designed to remedy the inconveniences of the traditional keyboard.