A new version of Typing Pal – School Edition was rolled out on July 8, 2021 (see the press release from Druide Informatique). It includes several improvements released ahead of the new school year 2021–2022. Here are the main points to know.
Improved Safety, Stability, and Performance
The biggest change this year took place under the hood. A bit like giving a car a new engine, we fully renewed and upgraded the infrastructure of the servers. This improvement has further improved Typing Pal's safety, stability, and performance, while also laying the groundwork for major developments in the coming years.
Simplified Association with Office 365, Google, and Clever Accounts
Students can associate their Office 365, Google, or Clever accounts with Typing Pal in a couple of clicks, since the application is now able to recognize email addresses from other accounts. As a result, students don't need to create another password. This new feature also prevents students from accidentally creating an additional (duplicate) account. Check out the User Guide to find out more about different ways to log in.
New in the Management Interface
Automatically Generated Letters to Parents
Parents are invaluable allies when it comes to encouraging students as they learn to type. This is why we created a tool to generate an individual letter for all the students in your group in a single click. Each letter includes the student's name, the group leader's name, and the school's custom URL.
Use the letters to inform parents that their children are learning to type with Typing Pal, and to let them know how to access the program online, so that they can continue training at home. See the new section of the User Guide.
If you prefer to write your own letter, use the template provided in Word format. You can find this in the Pedagogical Resources.
Easier Process for Adding and Testing Out Texts
Now it is even easier for you to add your own training texts, as the special characters created by some word-processing software programs ("curly" apostrophes, hairline spaces, etc.) are automatically replaced by the universally recognized characters used by Typing Pal. Plus, a new button lets you test out your newly created activities without leaving the management interface.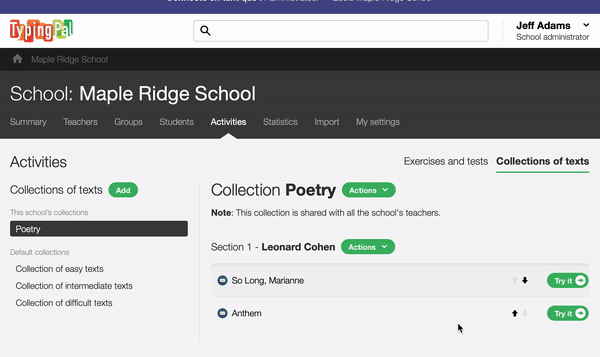 Additional Details for Better Monitoring
In addition to the many statistics already available in Typing Pal, we have now added even more data for tracking your students' progress.
The last exercise successfully completed is displayed in the student list—handy for checking who is behind and who is ahead. The result shown is the most advanced exercise or test in the training program that the student has completed (reaching the targets set), excluding the activities from the Move on tab.

The student log also tells you the number of attempts for each activity. This information helps you gain a better understanding of your students' training habits. For example, you might notice that one of your students is making slower progress than the others in the training program. Checking the number of attempts, you see that the student has repeated each exercise a dozen times in order to achieve the golden icon, despite having successfully completed them the first time. Now you know—far from lacking motivation, your student is simply a perfectionist!

A new filter identifies lowest completed scores, which can be erased individually to avoid adversely affecting the statistical reports.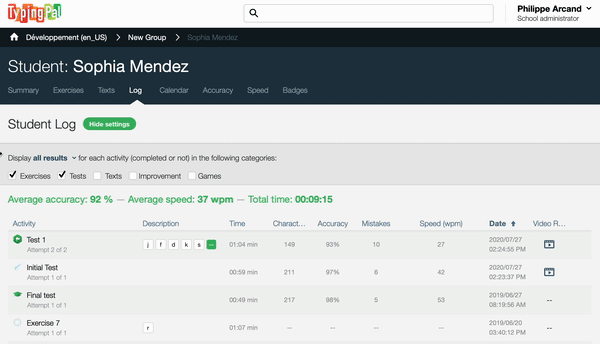 Extra Features for Students
Number Pad Training
Not all keyboards come with a number pad, but if you're lucky enough to have one, make the most of it! Each collection of texts (easy, intermediate, and difficult) now includes a section just for the keys of the number pad: serial numbers, mathematical operations, decimal numbers, and sequences of whole numbers. These activities allow students to develop the typing skills needed for data entry.
Clues For Mystery Badges
Students now receive a clue to help them collect the mystery badges. If they need more help, you can always access the solutions in the management interface. Six new challenges have also been added. And, exclusively here on the Typing Pal blog, we can now reveal one of the new badges!
So, which new feature will be your favourite? What would you like to see added next year? We really value your ideas! After all, most of the improvements you have just read about were suggested by Typing Pal users just like you. Send us your suggestions using our contact form.